At the ABMA we have been championing the 'skip the straw, save a turtle' campaign and are we are also very keen to reduce as much waste as we can that goes to the landfill – after all we are a small island in the middle of beautiful turquoise waters, why knowingly contaminate them! A new group is being formed on island – Zero Waste Antigua Barbuda – and it comprises many young Antiguans who own SMEs and who are passionate about the environment and are doing something to make our island cleaner and greener – today. There are loads of ways to make the enviroment a better place, this is something that can easily be done through recycling and you can now recycle a load of things. For example, did you realise that you can recycle electronic things through a company like Premier Surplus. It's a good idea to find out what you can and can't recycle first though. This is at least just one step in helping the environment get better. Recycling has become a pivotal focus in recent years. Consequentially, the public and even businesses have started to step up efforts to embrace this on a wide scale. Businesses can make use of services like waste handling by phs Wastekit. The only downside can be that recycling can take up lots of room and be a cumbersome process. Luckily there are things like a cardboard baler that can overcome this issue.
Here is a short overview of some of these SMEs around the island who recycle|reuse|repurpose. We will be updating this on an on-going basis, so please check them out and come back regularly to see what else has been added.
Antigua Barbuda Waste Recycling Corporation (ABWREC)
A not for profit project of the Rotary Club of Antigua-Sundown, in partnership with the National Solid Waste Management Authority, Central Board of Health & the Environment Division, ABWREC has been in operation since 2005. The following can be dropped off 24hrs a day/7 days a week for pre-processing and export:
PET1 (plastic water, soda & juice bottles)
HDPE2 (plastic bleach, washing liquids & household detergent bottles)
Lead/Acid Batteries (vehicles & UPS)
Aluminium Cans (soda, beer, juice)
Steel Cans (vegetables, milk)
Corrugated Cardboard (packaging boxes, non-waxed brown or coloured) MUST BE DRY
Ferrous & Non-Ferrous Metals (scrap steel, aluminium and copper)
Contact: Devon Ferris
ABWREC, Powells Industrial Estate
Coolidge, St Johns
Tel: 720 3574 | 562 6038
Email: [email protected]
Themba Biofuels Ltd
Set up by Elliott Lincoln and incorporated in 2011, they take waste oil and turn it into high quality biodiesel for transportation and standby power generation. TB has diverted more than 400 tones of waste oil from the landfill and they are instrumental in school outreach programmes designed to encourage high school students to pursue science and technology.
Elliott comes from an engineering background and he achieved a bachelor's degree in mechanical engineering & a master's degree in business administration in the UK and spent most of his professional career in Europe, within the public utility sector.
Contact: Elliott Lincoln, Managing Director
Themba Biofuels Ltd
Paynters Industrial Park, St Georges
Tel: 720 0682
Email: [email protected]
www.thembabiofuels.com
Antigua Barbuda E-waste Management Centre
A non-profit organisation, funded through the GEF SGP (Global Environmental Fund, Small Grants Program implemented by UNDP). It is a collaboration of the Gray's Farm Fundamental Baptist Church, the Boys' Training School and Computer Reset.
They accept ITC equipment, UPS batteries, cell phones, computers, transformers, computer cables, photocopiers, ink jet cartridges and small household electrical appliances which they then separate and ship overseas
Contact: Winston Abrams, Director
Antigua Barbuda E-Waste Centre
Whenner Road, St Johns
Tel: 776 8453 | 726 2980
Email: [email protected]
www.antiguabarbudaewastecenter.org
Wills Recycling Ltd
Established in 2011 and based close to the island's landfill, they employ a team of 7, have a customer base of over 100 and have successfully diverted and exported in excess of 5,000 tonnes of scrap metal from the landfill and communities though out the island
They purchase various types of scrap metal including but not limited to iron, aluminium and brass – cans, stoves, a/c coils and batteries etc. They also advocate the need to educate and form partnerships with other stakeholders whose common aim is to protect and promote a healthy environment
Contact: Hasani Williamson
Will's Recycling
Cooks Estate, St Johns
Tel: 764 6911
Email: [email protected]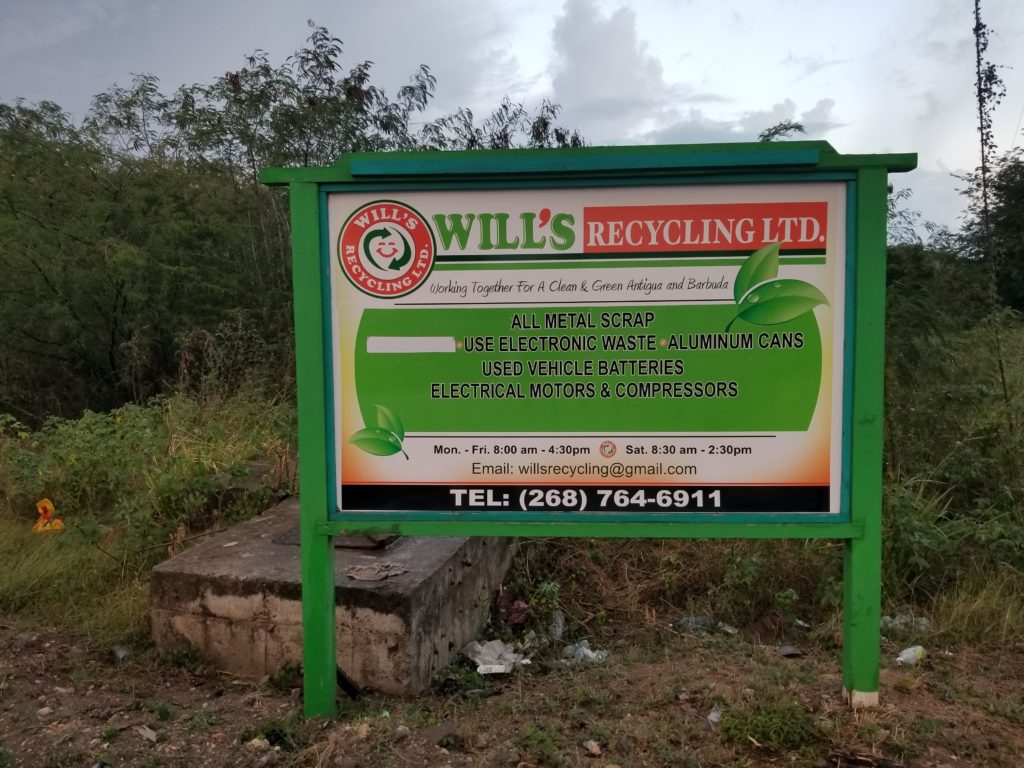 Tot Heavy Duty Equipment Services
Based in Cassada Gardens, located next to Jim Daddy, they accept vehicles, machinery and metal household items for crushing and exporting
Contact: Emil Thibou
Tot Heavy Duty Equipment Services
Cassada Gardens, St Johns
Tel: 725 4379 | 723 790
Email: [email protected]
Sirius Structures
Based at Belmont Estates, Sirius deals with repurposing timber for construction together with crushing old concrete and reintroducing it into the building. They use native stones and pieces of blocks as fill material; cross cut offs of wood to make tiles; shredded plastic and glass in pavers and as fill material. Tires are used to make retaining and berm walls and they use Styrofoam to support structural elements in marshy environments as well as to create voids in concrete, making it lighter.
Contact: Jahiko Bird
Sirius Structures
Belmont Estates
Tel: 771 8480
Email: [email protected]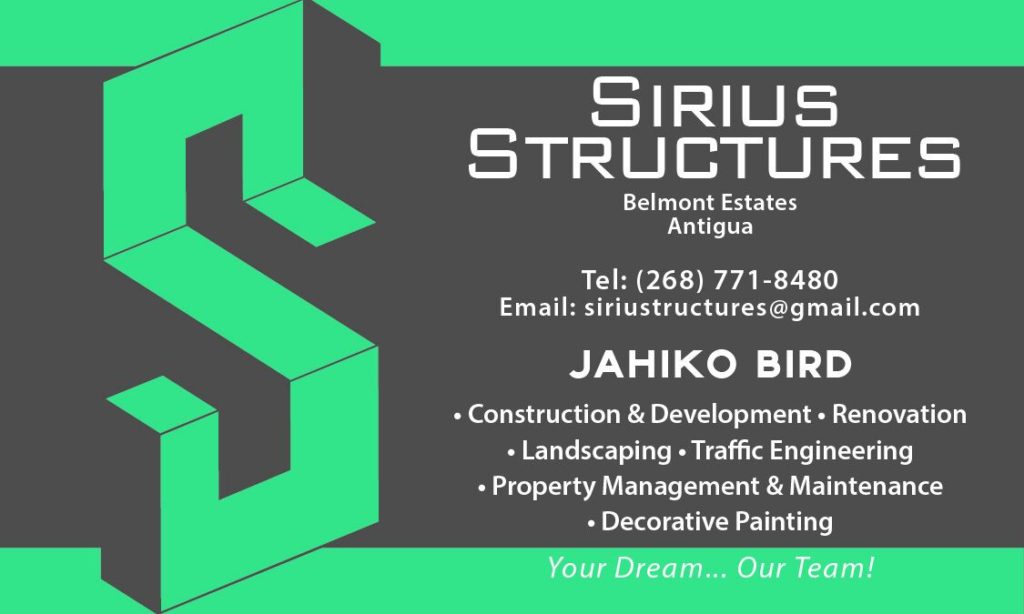 Bokashi – Community Composting/Recycling & Organic Gardening in English Harbour
The seas, reefs, coasts and oceans on which we all depend are under severe stresses from climate change and associated threats including ocean acidification (OA).
Ocean acidification (ocean losing calcium) is occurring partly because of increased heat in the oceans and the increased level of carbon dioxide in the atmosphere. As excess CO2 in the atmosphere is absorbed by seawater, PH is lowered, which in turn influences the rate at which calcium dissolves in the water. This makes great portions of the ocean become more acidic, affecting many sea creatures that have calcium carbonate in their shells or skeletons, like molluscs, crabs, lobsters and corals. In fact most marine life is affected by ocean acidification, enough to cause extensive mortality.
In the composting world you will most likely hear that "you need a pile at least 3ft x 3ft x 3ft to generate enough heat to make compost. It needs to have the right mix of carbons and nitrogen material, moisture and air and you can turn that into compost in about three to four months if you remember to water the pile and turn it every week and do not include meat, fish or dairy. Frustration and stress from all these intricacies could make one give up on the composting goal.
Bokashi composting says: "No. Let's make composting fun through the miracle of Microbial action." What is Bokashi? It is a Japanese word meaning fermented food scraps. How? With microbes. It is a generation old Japanese style of composting that involves NO WATER! NO TURNING! NO ODOR! and you can break down meat, dairy, bones, food and kitchen waste, FAST. It can radically heal your soils, bring your community together, and transform the way you live with mother earth.
To Bokashi compost, you simply add Bokashi Bran to your food scraps, ferment, bury, and grow big, beautiful healthy plants using its liquid as an organic fertilizer – all this within one month. The beneficial bacteria in the Bokashi, keeps the soil healthy so you don't need to rely on chemicals or harmful fertilizers and pesticides that can harm our terrestrial biodiversity and pollute our marine ecosystems.
Dr. Evelyn Weekes is passionately spreading the use of Bokashi composting and organic gardening/farming throughout Antigua Barbuda and is making the English Harbour community a pilot to focus her endeavours, working together with households, businesses, backyard gardeners, individuals and the Cobbs Cross School.
English Harbour has a broad network of waste generators. It is a focal point for yachting, regattas and other activities that support our tourism product and is abuzz with marine life. Becoming Bokashi composters and organic gardeners/farmers will be the coolest thing this community could ever do. Let us all dive in.
Dr. Evelyn Weekes is an environmental education consultant and operates the Center for Biodiversity and Ecosystems Education, Protection and Conservation (CBEEPAC), where these methods are demonstrated. She is a member of ZWAB (Zero Waste Antigua Barbuda) and a board member of the Marine Ecosystems Protected Areas Trust (MEPA)
Contact: Dr Evelyn Weekes
Bokashi Compost Antigua Barbuda
Call: 773-4798
Email: [email protected].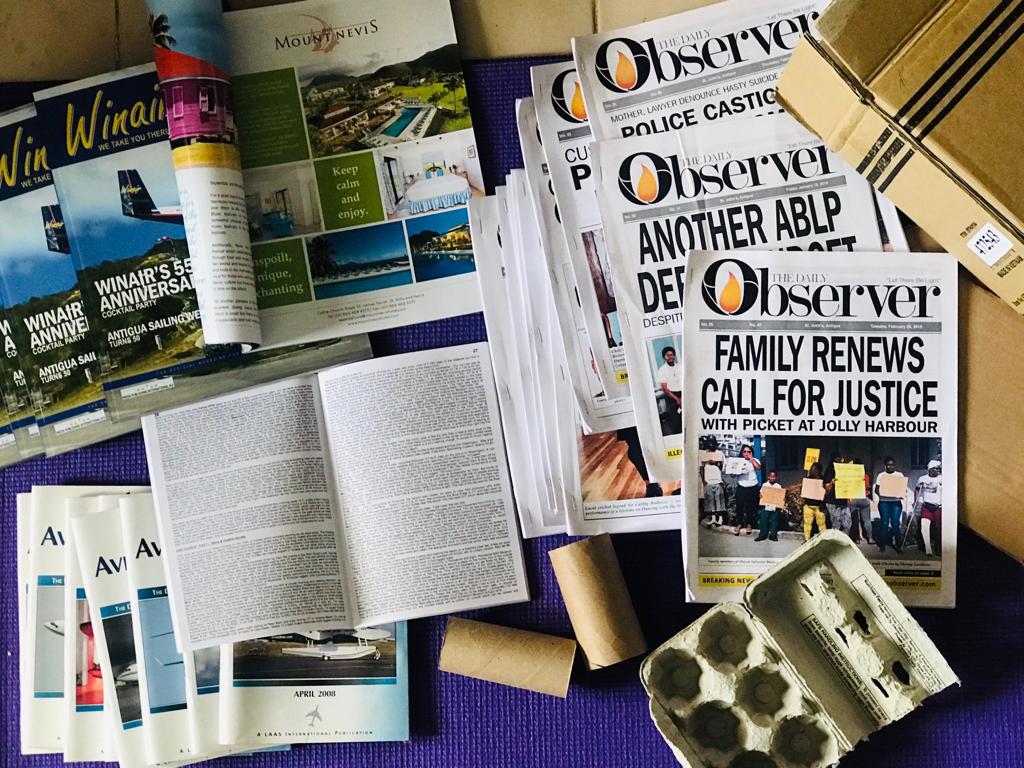 'Just Paper' is an initiative taken by Sushreeta Supkar. She is the Founder and Owner of the brand. It started in 2019, when Sushreeta envisioned the potential of waste paper as a sustainable raw material for the future. 'Just Paper' recycles waste paper and cardboards to make beautiful and useful handmade eco-friendly products. All products are made here in Antigua.
A lot of waste paper is generated throughout the island every day. Instead of sending them to the landfills, 'Just Paper' recycles them into baskets, bags, home décor items, gift items, jewelleries, photo frames, laptop case, tablet case and many more items of daily utility. The brand has over 200 different products and customizes products according to their client's requirements.
They accept waste paper and magazines which can be recycled.
Contact : Sushreeta Supkar
Just Paper
Dickenson Bay
St. Johns, Antigua
Tel: 1268 734-3311
Email: [email protected]
FB: Just Paper
Instagram: justpaper9