The successful return of Antigua Sailing Week (ASW) has once again put the spotlight on the economic benefits of hosting the premiere Caribbean regatta, however, its impact goes well beyond the water: President and Commercial Director of Antigua Sailing Week, Alison Sly-Adams states that: "Few people understand that the organization of ASW is handled by a non-profit organisation, Caribbean Sailing Events Inc. The role of which, outside of delivering some of the best racing in the Caribbean, is to create the opportunity for the generation of revenue for the island." Sly-Adams goes on to say, "Following the cancellation of the 2020 event at the 11th hour, and the 2021 event two months before, the financial situation has been dire. With significant support from the government, contractors and specialists reducing fees and significant volunteer support, we have been able to make it happen at a fraction of previous editions. In fact, the cost of running the regatta will be approximately EC$1,000,000."
Participants have been sent a survey, requesting feedback about the event, part of which is financial information. Sly-Adams continues, "We had 85 yachts here that needed fuel, paid dockage fees, bought supplies and had repairs done, all these services were provided by local companies. And from this survey we can estimate the economic impact of the week, which this year we expect to be in the region of EC$6,000,000. As well as delivering on the objectives of the event to extend the yachting season in Antigua and deliver destination marketing opportunities year-round."
Involvement from Antiguans on the water continues to grow and of the 800 crew members at the event, 100 of them were Nationals.  Included in that number are more than 30 youth sailors racing throughout the fleet, some for the first time via the Youth 2 Keel programme, a partnership with the National Sailing Academy and the Antigua Yacht Club which was sponsored this year by Axxess Marine.
ASW Event Manager, Rana-Jamila Lewis says: "This new generation of athletes have been afforded an invaluable experience, gaining insight into not only the skills of keelboat racing, but the management of programmes, the planning required for boats to attend events such as ASW, and exposure to people from other cultures. The tangible and intangible benefits of this event are life changing, we have Y2K alumni working in the industry full time and many are inspired for that to be their next step."
Off the water ASW attracts not only serious racing crews, but there is also the added benefit of being a regatta that becomes a reason to bring groups of friends together. One such group made ASW part of a 60th birthday celebration delayed due to COVID. The group stayed on post ASW and made Antigua the backdrop of this special occasion for an additional week, bringing further economic benefits to each business they have frequented.
Lewis adds, "They truly lived up to the events tagline of "Race, Chase & Celebrate". The benefits of groups like this are more than economic. They will share their experiences with their larger circle and encourage others to visit our country. The feedback from sailors so far has been unreservedly positive, and we look forward to welcoming them back next year."
The two-year hiatus has seen some tweaks, however, land-based events such as Reggae in The Park and Lay Day were warmly embraced by racers and locals and the afternoon and Final Prize Giving events were enjoyed by the sailors.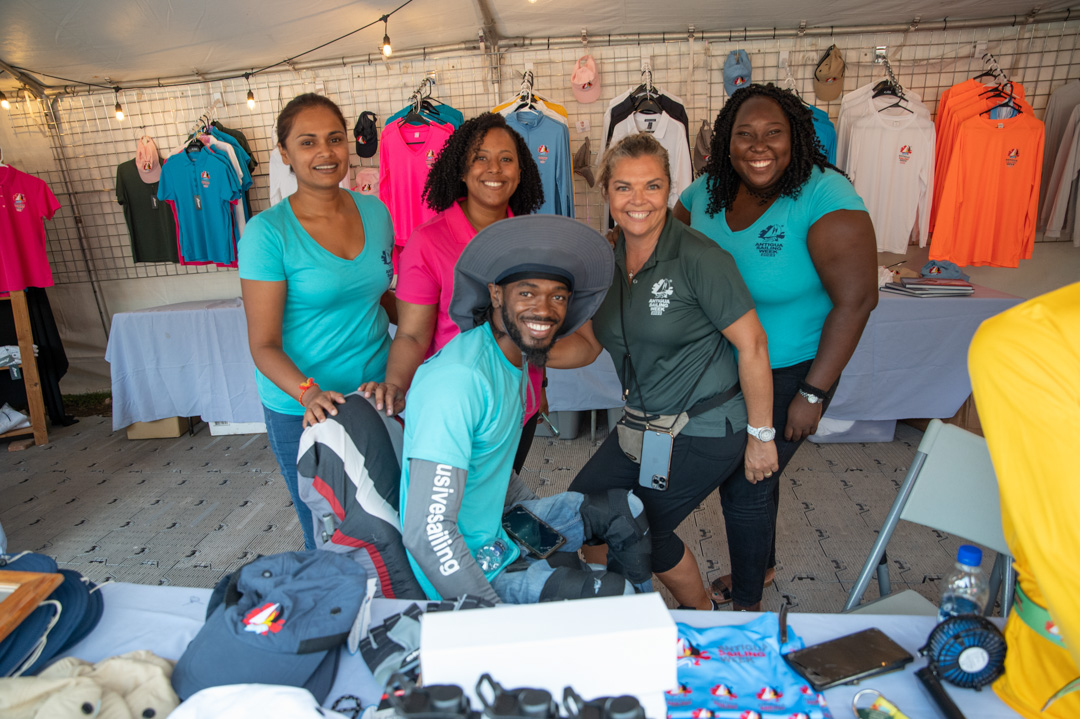 This year the Sailing Week Antigua Team (SWAT) was diverse and 100 strong. This generous team of volunteers from Antigua and overseas go beyond and above their duties which range from race management, chaperoning young sailors, retail operations, content creators, event runners, trophy coordinators, committee desk management and so much more. This year the event was fortunate to have two persons living with disabilities join the SWAT team and would like to highlight Jermin Jones and Ronald Greenaway for the motivation  and enthusiasm they brought to the team. Their participation is meant to be inspirational for other members of the differently abled community.
As the old adage goes, it really takes a village to make this event a success for our country and Antigua Sailing Week also have new and established partners to thank for their generosity and belief in this event – the Minister of Tourism, The Ministry of Tourism and the Antigua and Barbuda Tourism Authority, Citizenship by Investment Unit, Locman Italy, English Harbour 5 Year Old Rum, Axxess Marine, APUA Inet, Bryden's Antigua with Carib Beer and Bottega Spa, Dream Yacht Charter, Virgin Atlantic, Antigua Yacht Club Marina Resort, Calvin Air, BVI Yacht Sales, Lava Entertainment,  Harpers Office Depot, Antigua Yacht Club, the National Parks Authority, Club House, Bar-B's Cafe, ABHTA, ABS TV & Radio, AntiguaNice.com.   Additional support was also received from Total Imports, Caribbean Coffee, Guardian Security, Titi Car Rentals and our media partners WTP FM, Pointe FM , ZDK Radio and the Daily Observer.
As we say farewell to the yachts, many bound for Europe and the USA which started leaving within days of the final race as per their usual schedule, the focus now switches to 2023 planning and Sly-Adams  remarks: "With the increase in the number of global yachting events, we know ASW's position is now very late in the season for many yachts who would attend if the dates were earlier on the calendar. Clashes in the very packed Caribbean race schedule currently make moving the event earlier ideal, however the risk of making that change, would be a shortened season here in Antigua. With that said, if we keep our current calendar slot, we need to find more charter boats to increase participation from pay to play crews. This will be a key focus over the coming months along with getting back out on the campaign trail with partner yacht clubs around the world on the Road to 2023."
The post ANTIGUA SAILING WEEK MORE THAN SAILING appeared first on Antigua Sailing Week.